:)) احول شناسی در زوریخ
Strabismicology in Zürich :D
with Mahrokh Danaei
با ماهرخ دانایی

2021

at the same time in Tehran and Zürich
attending a writing workshop at PEERs program in
Zürich University of the Arts (ZHDK)
by Efva Lilja, Macklin Kowal and Yvonne Schmidt



Day 19:

Imagining the table of content
parallaxed (i): hosting the (oil) ghosts

Introduction
Ch 1. a very old story of bodiless (i)
Ch 2. Dance of Pointy Clouds : Ghosts in the backstage
Ch 3. swimاو: (i) and the avatars
Ch 4. Atlasi : flowers and fathers, oil and mothers
Ch 5. Multitudes of (i) : where should my body be?
Ch 6. Tamasha : economy of the gaze, parallaxed lenses
Ch 7. (i) a diasporic parallax : nomadic or diasporic or neither
Ch 8. (i) a (...)/abled body : migration and ableism
Conclusion
References



Day 23.

To peers
Hello all
...
I just wanted to let you know about how I am going to be present in the coming workshop. Firstly, thank you all for helping me stay in my practice during this program, it is very valuable for me to be able to do that and please do not hesitate to tell me if you have any difficulty caused by it. I hope I'm not taking too much space.
Now I'm gonna tell you a short story, bare with me:)
For this workshop, when I almost lost all my hope for having a host that could add to my previous experiences (with Kamran, Katerina and Ogutu), when I gave up on the hope to have my sister (Tara) or another friend-colleague (Clara Saito) to host me in Zurich, I got lucky to find out that Mahrokh is traveling to Switzerland. She is many things in my life, among which is the mother of my dear friend and colleague (Shahrzad Irannnejad) and an important supporter of my work in the context of Tehran. Since the summer of 2018 and with her encouragement and following up, we have formed a dancing group for mothers of my friends. Since then and specifically after covid pandemic, we gathered online, every week, dancing for 2 hours where I shared one movement practice or thought experiment with the group.
As Mahrokh traveled from Tehran to Geneva to spend some time with her son (Farhad), I took my chance to invite her to my research and asked if she would like to be my host in Zurich. She said yes, and if no unexpected thing happens, she will travel to Zurich to be there with you and to host me on her devices. I will of course be online and be the speaker/translator between the two of us (I assume).Her accommodation and travel is taken care of and I will tell her all I know about Toni and our group and the city to make her feel more comfortable. Mahrokh's english is not as strong as her hiking and biking skills but I'm sure we (she and I) will manage to have a vivid presence in the group.
The end of the story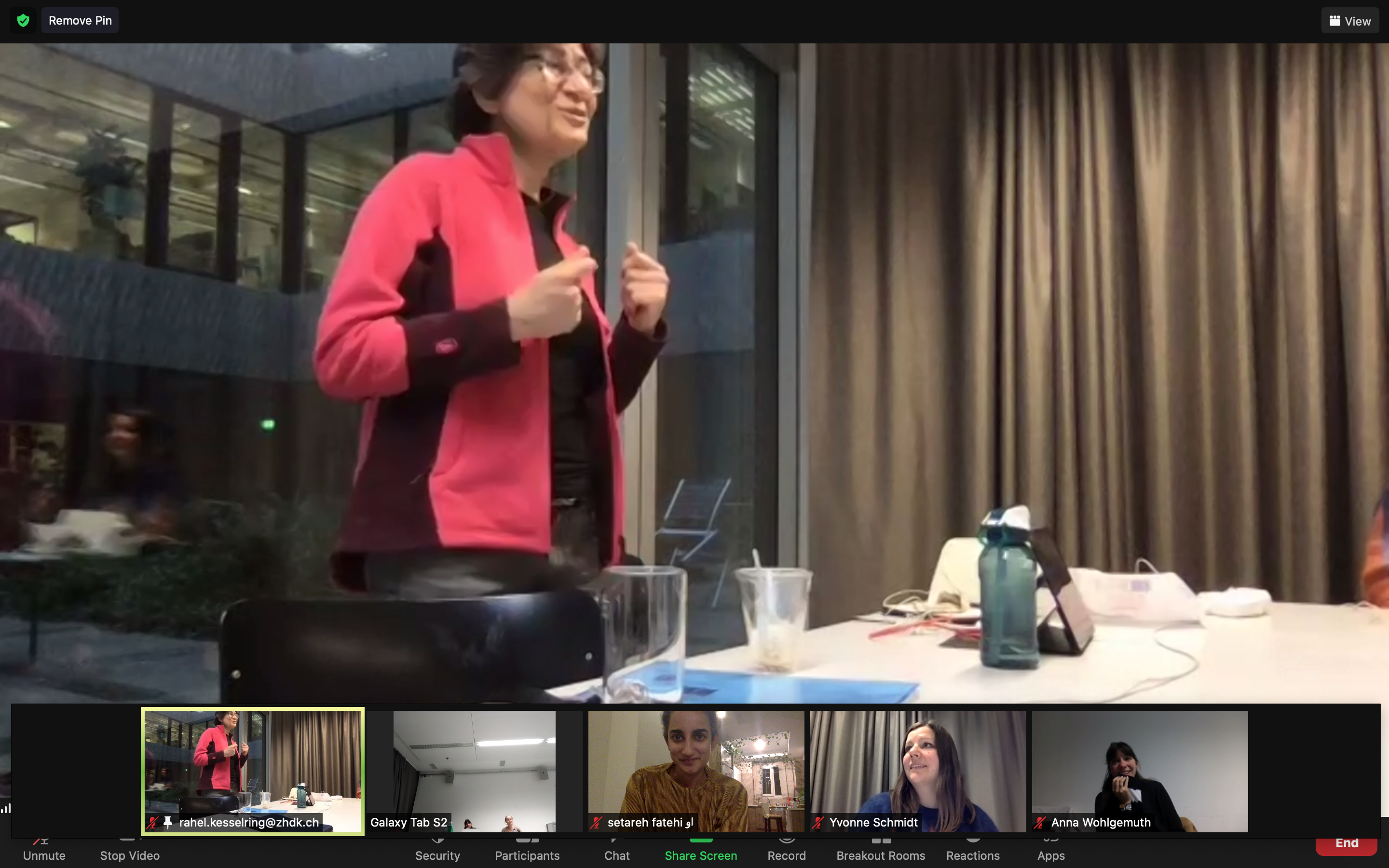 My question from the group is :
- Is there anything you need to know or any concerns that you have in relation to this proposal?
- Might you have an extra bike that we could use?
- What would Mahrokh need to enter Toni, in case we are working there? Her vaccination certificate will most probably not be accepted so she will have to do the PCRtest at the entrance. I also gave her my student card which I think would be useless since it has my photo on it.
That's it for now.
Thank you for reading this and looking forward to hearing from you and to the whole 3 days ahead of us.
Kisses from Tehran
💟


Day 13.
She "had to chose" to go there to run away from very difficult family set up which got exacerbated after the economical war that US and Iran started intensely in the past decade.

Day 26.

How can/should I talk about those bodies that join/host me?
avatar
geo-economical medium
collaborator
co-existing buddy/body
host
parallaxed (i)/subjectivity



Day 20.

This idea that the absence of one thing is the presence of the other and the entanglement of presence with the medium that it is perceived in and all the interruptions and glitches on the way, is a part of the parallaxed presence that I am experiencing. What i called so far an "avatar/medium/host/.." relates to terms such as "reciprocal construction" or "co-construction" or "trans-corporeality"*. Reciprocity, Transness and Co(as common) are notions (i) would learn more about in order to see how (i) can use "WE" as a pronoun that is not erasing or silencing some parts of its own "identity".
Dynamism and instability that is assigned to the mesh of entangled corporealities, is central to the parallaxed vision that I am talking about. Frames, lenses and cameras on wheels, is an attempt to keep the image ephemeral and temporal where its temporal absence can be translated as yet a presence of another image, underneath or above. Acknowledging the presence of violence and understanding the right to opacity is also crucial for the development of this practice.